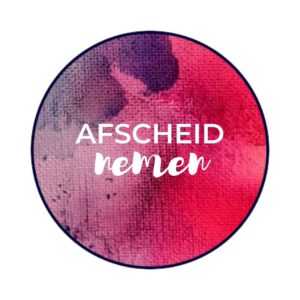 Van relaties, gebeurtenissen die niet meer terugkomen, een dierbaar voorwerp, een ritueel, van ballast, van vroeger, van een droom, van nare gevoelens… We kennen het allemaal, afscheid nemen. Vaak associëren we het met nieuwjaar en slechte gewoontes de deur wijzen. Maar echt VOORGOED afscheid nemen, ik heb het ervaren als het MOEILIJKSTE wat ik ooit heb gedaan. Dit overkwam me twee keer.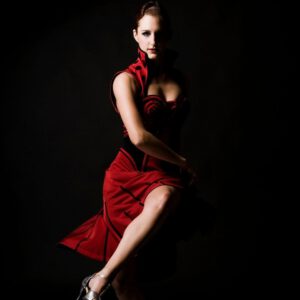 Toen ik afscheid moest nemen van mijn moeder, nadat ze jarenlang dapper had gestreden tegen kanker en toen ik afscheid nam van de danswereld en indirect van de danser/performer in mij.
Twee gebeurtenissen, een ANDER PROCES, maar toch ook duidelijk overeenkomsten. Het LOSLATEN van iets zo dierbaars… Een rouwproces dat volgt. Toch bracht het beide keren ook iets moois en is er ruimte door ontstaan. Omdat het uiteindelijk oké was, ik het kon accepteren en daardoor ook loslaten.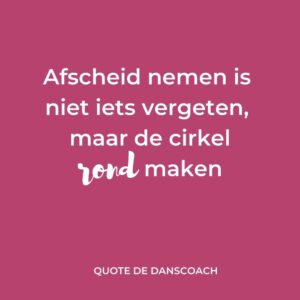 Hoe klein of hoe groot ook, afscheid nemen en loslaten is LASTIG. Er is geen handboek voor hoe je dit moet aanpakken. Iemand zei me laatst; je kunt verlies niet met elkaar vergelijken of meten. Ieder verlies is erg, omdat het JOU overkomt. Dat vond ik een mooi besef. Ik kan niet voelen wat een ander voelt, alleen mijn eigen gevoel stroomt door mijn lichaam. Afscheid nemen is niet IETS VERGETEN, maar de cirkel ROND maken.
Dus hoe klein of hoe groot ook, geef het AANDACHT en stop het niet weg. VOEL wat het met je doet en probeer het daarna los te laten. Niet alleen als er een nieuw jaar voor de deur staat, maar het hele jaar door.


>>Sta stil, doe je ogen dicht en denk eens terug aan de momenten van 2021.
Is er een afscheid waar je nog niet bij hebt stilgestaan, of iets wat je nog niet kon loslaten?


Gebruik dit moment, nu, en neem afscheid van:
❤️ Een oud huis vol herinneringen
🧡 Situaties die niet meer terug gaan komen
💛 Een dierbare of geliefde
💚 Mensen die je niets meer geven


💙 Een maatje S die niet meer terug gaat komen
💜 Een vriendschap
🤍 Overtuigingen die niet meer bij je passen
❤️ Een slechte eigenschap of gewoonte
🧡 …….